WPX CW 2007
I was at my flat at University for this contest, so here are some pictures of my very temporary set-up for this weekend. Due to QRM problems (and the fact that I only have a 10A PSU at University), I was limited to 60W.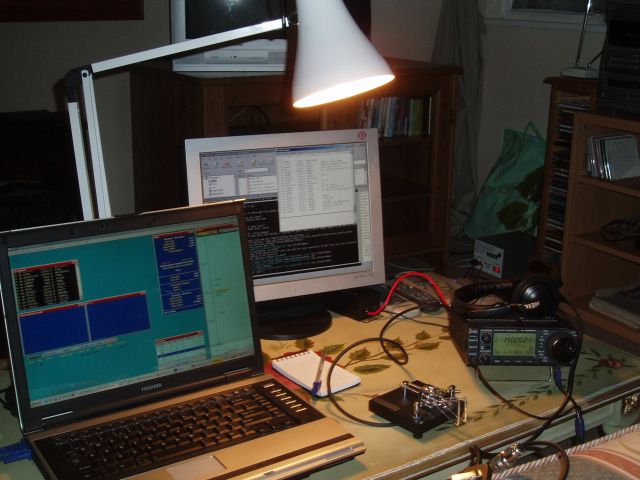 IC-706MK2G (interfaced to laptop), Bencher Paddle, Win-Test on laptop, IRC/Email/Webbrowser/MSN etc. on second monitor so I could be distracted.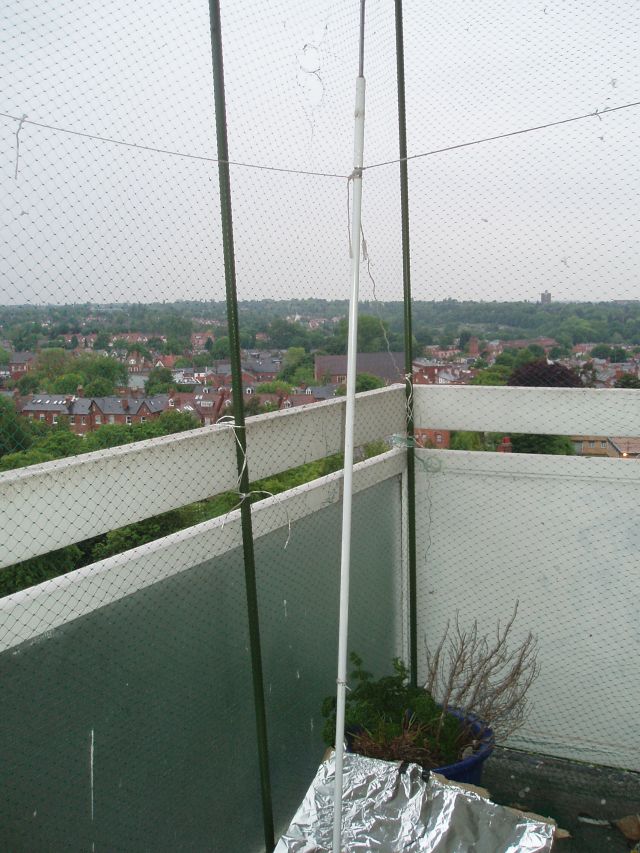 20m Hustler mobile whip installed on balcony of my tower-block (this is the 11th floor). The picture faces north-west, so Europe is towards the concrete. The other poles support netting to keep the pigeons out!

The base of the mobile whip: a mag-mount attached to a biscuit-tin lid, placed on top of a flower pot, with a sheet of aluminium foil as a ground plane and the odd radial.
Blog posts
So, this weekend is this year's CQ WPX CW Contest (for the benefit of non-hams this means that for 48 hours we try to speak to as many people as possible in Morse Code. I'm in the SOSB(A) 20m LP category, which means all my contacts have to be around 14MHz.) Unusually, I'm doing this one from my flat in Birmingham, which has been somewhat limiting on the antenna front. Some pictures of the equipment I'm using can be found at http://www.domsmith.co.uk/wpx07/
About 22 hours into the contest, I've just managed to pass the 100 contacts mark, and I've managed to reach people from Canada to Cyprus. It's been very tough work being heard with the limited set-up, and my score certainly pales in comparison to the thousands of contacts that the 'big-guns' are having. It is fun though, honest...
2007-05-26 23:09:08
In the WPX CW contest this weekend, I managed a total of 151 contacts, with Colombia as the furthest. Thanks to everyone who put up with my weak signal!
2007-05-29 18:36:29