IARU 2008
During the weekend of 12-13th July, I was active in the International Amateur Radio Union contest from my home QTH (which is known to be terrible for radio!) as M0BLF, in the Single-Operator, Mixed-Mode, All-Bands (Low Power) category. My target was to improve on my 2006 QSO total and to make at least 300 QSOs, but I didn't quite manage this.
Problems
The entry was blighted by problems, from parents arranging things on the Saturday afternoon, to RF getting into the soundcard interface, to a vertical antenna which refused to tune on 80m SSB. The updates section below contains my comments added to this page during the contest itself. Whilst it was good to see 10m and 15m slightly open, it did distract me into spending far too long on these bands, at the expense of 20m where I had most contacts. There was no interesting DX to be found anywhere. Best DX was a couple of east-coast US stations on 40m.
Summary
The all-important summary:

Contest         : IARU HF World Championships
Callsign        : M0BLF
Mode            : MIXED
Category        : Single Operator (SO)
Overlay         : ---
Band(s)         : All bands (AB)
Class           : Low Power (LP)
Zone/State/...  : 27
Locator         : IO70WL
Operating time  : 9h42

 BAND   SSB    CW ITU  HQ  POINTS   AVG 
----------------------------------------
  160     0     0   0   0       0  0.00 
   80     0    20   5  12      38  1.90 
   40    14    42   7  26      96  1.71 
   20    90    66   9  24     402  2.58 
   15    12    14   4  11      42  1.62 
   10    14    13   5   8      57  2.11 
----------------------------------------
TOTAL   130   155  30  81     635  2.23 
========================================
          TOTAL SCORE : 70 485

Dupes are not included in QSO counts neither avg calculations

Operators       : M0BLF
Soapbox         : 


Powered by Win-Test 3.21.0       http://www.win-test.com

Results
After log-checking, my score was reduced to 64270 points, which was still sufficient to be the third-placed single operator mixed mode, low power station in England (out of twelve).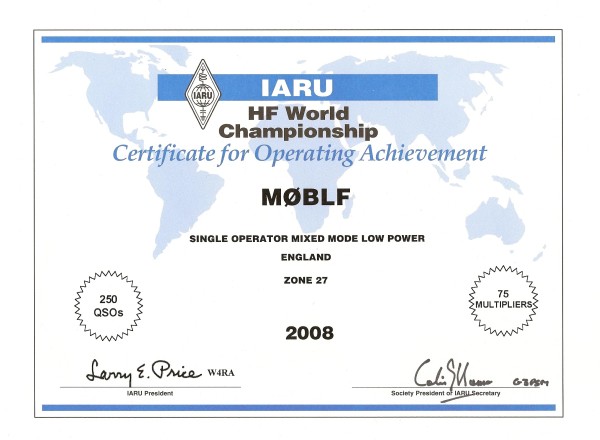 Statistics
Calls with at least 6 band-mode slots: 9A0HQ, DA0HQ, E7HQ, OL4HQ, OM8HQ, YT8HQ
I only managed to contact the British Headquaters station, GB7HQ, on four slots :(
There were 23 minutes with 2 QSOs/minute, but no higher rates.
Shack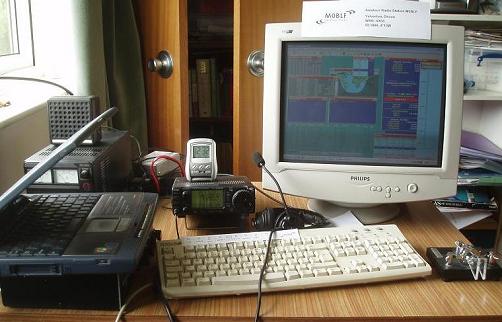 Equipment was IC-706MkIIG, 100W, Hustler 6-BTV vertical, Bencher CW key. Logging with Win-Test.
Updates
12:00 UTC - Well that's it. 285 QSOs total. Lunchtime now, full report coming in the next few hours.
11:00 UTC - Been concentrating on 20m CW. Now up to 260 QSOs. One hour left... will I reach 300?
10:00 UTC - A mixture of 40m and 20m in the last hour. Now up to 230 QSOs as 40m was slow with lots of splatter to contend with. It's that difficult time now when I have worked almost everything I can hear on 20m and 15m isn't yet open here. In 2006, I made 310 QSOs in the contest (reduced to 250 after checking). It is looking rather doubtful that I'll better that now.
09:00 UTC - Been on 20m CW. 218 QSOs.
08:00 UTC - Woke up late at about 06:30 UTC. Been on 80m CW and 40m CW and SSB. Up to 198 QSOs now.
01:10 UTC - Going to bed. Been on 80m CW. 170 QSOs logged. No 80m SSB as the antenna won't tune that high.
00:30 UTC - 151 QSOs now, after bashing 40m CW for an hour.
23:30 UTC - I gave up, and went to the pub for a couple pints. Now back on - CW operation only, as Mum is asleep next door! Just worked all I can hear on 20m CW, up to 126 QSOs now. Not bad to only be moving down to 40m now, I think. No webcam updates now, until the morning I'm afraid (not enough light).
21:23 UTC - That's better. Audio seems OK now that the interface is removed, so at least it isn't the rig. Been S&P on 20m, and now reached 110 QSOs.
20:00 UTC - Not going to plan. Had to go and make dinner at 16:00 UTC, and didn't get back to the radio until 19:00. Please to see that 15 and 10m were still open when I got back, but had some reports of 'terrible' audio on 10m in the last few minutes. I suspect my homebrew audio interface, so I have disconnected it, leaving me without PTT pedal or keying. So, only headset on VOX from here on in. :( Nevermind, at least I'll be on CW overnight. 65 QSOs so far.
15:45 UTC - Eventually managed to start at 14:30 UTC. Since then, I have been on 20m SSB, 10m SSB and 10m CW. Nice Es opening on 10m to Europe but no DX. CW seems to be performing a lot better than SSB from this QTH, so will probably concentrate on that mode. 29 QSOs so far.
11:20 UTC - I'm officially stupid. Couldn't work out why I had a very high SWR. Answer: The switch on ATU was connecting the rig to a non-existent antenna. Question: How was DR1A still S5 with that position!
10:45 UTC - Just about ready to go! Unfortunately, my parents have arranged other activities for this afternoon, so I'll have to miss a few hours but will hopefully be able to catch up.
Previous Entries
Although I made a few contacts in this contest last year, my last semi-serious effort was in 2006, when I won first-place in England for the Single Operator, Mixed-Mode, Low Power category, despite only making 250 QSOs.